Here at First Baptist, we embrace the opportunity to recognize the achievements of the girls who are seeking to become true servants of God. We recognize excellence through badges and pins. Please check back on October 23rd for a pdf with full badges and achievement opportunities. Until then, we are excited about the first four achievements these girls have to be recognized. The first three badges are required for a girl to officially become a GA.; The GA Motto badge, the GA Scripture Verse Badge and the GA Pledge Badge. The fourth badge is the "Serving Others" badge which was earned by the girls who participated in the "Birthday Box Project". These first badges will be presented to the girls on their new GA Vest on Sunday Morning October 20, 2019 at 11:00AM. Below, you can see the badges and please contact our director Kristen Sosa through the church office for more information.
GA Motto Badge
This badge is awarded to girls who participate in the initial steps of becoming a GA. The girls will participate in an activity with the class on a Wednesday night and memorize the motto; "Go Forward".
GA Scripture Verse Badge
Earning this badge requires two steps; 1) memorize the verse Isaiah 12:4 (HCSV) and 2) participate in the GA Verse group activity. Isaiah 12:4 "Give thanks to Yahweh; proclaim His name!
Celebrate His works among the peoples.
Declare that His name is exalted."
BAM for Kids
Earning this badge requires two steps; 1) memorize the verse pledge and 2) participate in the GA pledge group activity. The pledge: "As a GA, I will do my best to live a missions lifestyle that honors God by learning about missions, praying for missions, giving to missions, doing missions, and participating in the work of the church."
The GA Serving Others Badge
This badge is earned by GAs who participated in the Birthday Box Project.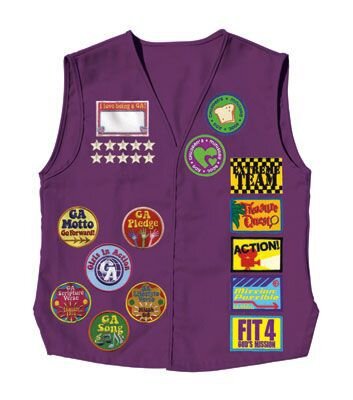 This vest is worn by the girls to display their achievement badges and pins.